The team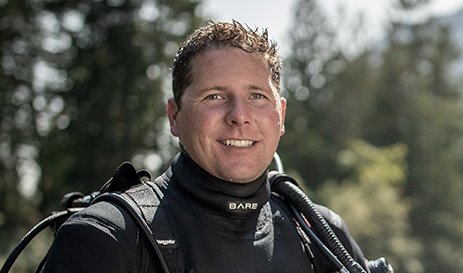 Maxwel Hohn
Photographer, Videographer and Prism 2 Ambassador
An adventurer, photographer and filmmaker, Maxwel Hohn has a passion for documenting and exploring the underwater world. He is a recreational, technical and commercial diving instructor with over 4000 dives. One week he could be squeezing into a river canyon filming salmon for a documentary, and the next week he could be traveling the coast of British Columbia collecting data for Fisheries and Oceans Canada. Maxwel's goal is to utilize the Prism 2 Rebreather for underwater videography. With extended bottom time and a closed-circuit breathing loop (no bubbles), it is the ultimate tool to explore, and document the underwater world in more unique ways.
nick Hollis
brand manager
The driving force behind the Hollis brand since its launch in 2007, Nick's passion for scuba diving began earlier than most: as an 8-year-old diving with his father, Bob Hollis. Today, Nick leads the design of gear for both the recreational and technical markets, and focuses on the Hollis customer experience and continuously expanding the rebreather community.
Ben Eastman
Rebreather Division Manager
With over a decade of experience with Hollis Rebreathers, Ben leads the day-to-day operation and management of the rebreather line. He is personally involved in every step of research and design, testing, production, and customer service. If you have purchased a Prism or Prism 2 over the years, Ben has likely overseen every phase in the development of your product.
Matthew Addison
Prism 2 Instructor Trainer
Matthew has been rebreather diving for more than 25 years and became one of the first Prism 2 instructors in 2008. He authored the Prism 2 user manual and is still actively involved in teaching as well as R&D efforts for Hollis Rebreathers. Matthew has produced industry-leading photography, television specials and promotional content for the Cousteau Group, DSAT and various dive magazines. He has also taught divers on the Prism Topaz for Steam Machines. In 2008, Matthew began assisting Hollis with bringing about the evolution of the Prism Topaz into today's Prism 2 rebreather. Matthew is an Instructor Trainer with TDI, IANTD and PADI.
a history of Hollis rebreathers
Our rebreather history runs deep with stories from Hollis founder and renowned industry pioneer Bob Hollis. In the mid-1960s, Bob had his first rebreather experience; he used Draeger units to get close to Sea Otters and other marine life in Monterey Bay. By 1970, Bob made some of the first dives on the Electrolung rebreather, using Heliox down to 300 feet in Honduras and Bonaire and filming ship wrecks and deep reefs. In 1990, Bob & Oceanic developed the "Phibian" rebreather, which at the time was the only commercially available unit. And in 2000, under two separate contracts with the United States Naval Surface Warfare Command, Hollis developed and delivered a unit called the "ATUBA" (Advanced Tactical Underwater Breathing Apparatus). This solid back-ground of rebreather technology directly led to the development of the our flagship Prism 2 rebreather.
"Prism Topaz, the original name and design for the Prism 2. Photo from steammachines.com"
bonus footage
When rebreather diving, as with filming, there's always so much to see. So we've set up this bonus area where you can watch more footage about rebreather diving, the Prism 2, and learn a few more helpful tips from our team. Check back for new bonus footage as we post new episodes.
prism 2
The Prism 2 is a fully closed-circuit rebreather, ideal for exploring open ocean, cave, or wrecks. It can be either electronically or manually controlled, and its simple design benefits photographers, underwater researchers, and technical divers. It's been tested to have one of the lowest WOB of any mixed gas CCR on the market, making it extremely comfortable to dive.
Prism 2 includes shoulder mounted counter lungs and a rear mounted radial scrubber for easy breathing with low resistive effort and low hydrostatic loading.
LEARN MORE