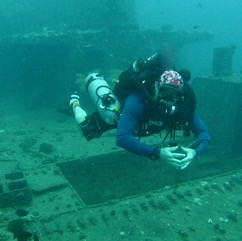 About Terry Forsyth
As an instructor with over two decades of experience, I have been fortunate to have learnt from a variety of instructors during that time.  I have been a PADI instructor for most of my diving career, but I have also taken courses through other certifying agencies including: TDI, IANTD, NACD, NSS-CDS and others.  When teaching, I bring all this experience and knowledge into the classroom, pool, or whatever environment I find myself in.  My goal is to improve the skills and knowledge of both the students and myself as learning is a never-ending process.
I first started researching rebreathers in 2006, before finally being certified in 2008.  Since then, I have been certified on four different rebreather brands, however, the only one I teach is the Hollis Prism2.
I take diving seriously because I want to come home safely to my family after every dive.  This requires continuous and ongoing training and education, which allows us to better understand the objectives that we are trying to achieve in this kind of diving.  I also want all my students to come home safely after every dive.  So, when objectives aren't being reached, certification shouldn't be expected.