The PRISM 2 is a simple and reliable rebreather that can be used for all types of diving from the shallowest photography dives to the deepest exploration dives. P2 owners are the silent stormtroopers of the underwater world.
On a recent liveaboard trip (pre-Covid) there were a number of rebreathers from different manufacturers and a few PRISM 2's on board. The divers on the trip saw that the PRISM 2 was one of the few that performed consistently and reliability and that those P2 divers didn't miss a dive.
Why Dive the PRISM 2 Rebreather?
Why? Overall, the PRISM 2 is a simple unit, built from durable materials that require fewer parts than most. These design features of the P2 add to its ease of service and reliability. Traveling divers of all levels have learned to keep a "Save-a-Dive" kit with them and that's true for P2 divers as well. However, P2 divers typically don't have to have more than a spare oxygen sensor, wiring harness, O-ring or breathing hose available, as it's uncommon to need a replacement outside of an annual service.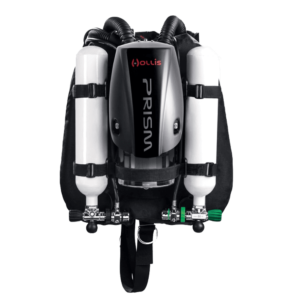 Most CCRs today use a tried-and-true design of machining parts from Delrin or metals such as Aluminum and Stainless. This permits smaller manufacturers to have a consistent quality of product with minimum production quantities. While these other units perform OK, the results of this production method are time-consuming and result in bulky parts of no significant strength or durability benefit.
Alternatively, the PRISM 2 uses a combination of injection molded plastics in the core of the unit. This manufacturing process lowers the cost of replacement parts, ensures part consistency and has the ability to use materials not available in smaller manufacturing processes.
PRISM 2 Advantages
The big advantage to the P2's design and manufacturing is that it's incredibly compact and lightweight, making it very easy to travel with. In fact, the P2 head and electronics can easily be packed into a carry on.
Another cool feature is the P2's clear-bucket design that no other rebreather incorporates. This allows your buddy to identify a critical leak during the initial safety checks before it becomes a major problem. The Acrylonitrile Butadiene Styrene (ABS) cover also protects from interference with overhead environments and drops from the local dive site bench. It also, notably, doubles as a stormtrooper helmet.
But do all the features of the PRISM's lightweight and compact design benefits also translate to durability? Let's dive into the details.
The PRISM is constructed of Advanced High Impact ABS in the breathing loop, Zytel Nylon in the head and basket, and Isoplast Urethane for the bucket. These materials were chosen for their extreme temperature resistance, high tensile strength, and are chemically resistant to degradation in the most extreme conditions.
These materials were chosen during the engineering and design of the P2 because they're as strong (or stronger) than what other manufacturers use and strong enough to replace metals in load-bearing applications. Plus, they're more resistant to cold water brittleness and deformation and have better insulating properties.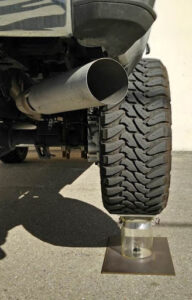 For example: The Scrubber Bucket of Isoplast Urethane and the Scrubber basket made from Zytel Nylon are; 2x strong as Delrin; 3x Stronger than aluminum; 1/3 Lighter than aluminum; and they don't corrode. (Wait until you see what salt water and water that has sorb dust in it does to that aluminum bucket of the other guys.) Finally, there is no off-gassing of harmful formaldehyde chemicals into your loop!
The bottom line? Considering the advanced manufacturing materials and processes that are available today and used in the manufacturing of the P2, why would anyone want to continue to use outdated, heavy and cumbersome materials in their dive equipment?
The added weight and bulk of other rebreathers have an effect on your comfort, swimming effort and breathing efficiency underwater that are absent while diving a PRISM 2. With the PRISM 2's design and engineering, the diver greatly benefits by having years of reliable worry-free diving without limits.
Safe diving,
Nick Hollis